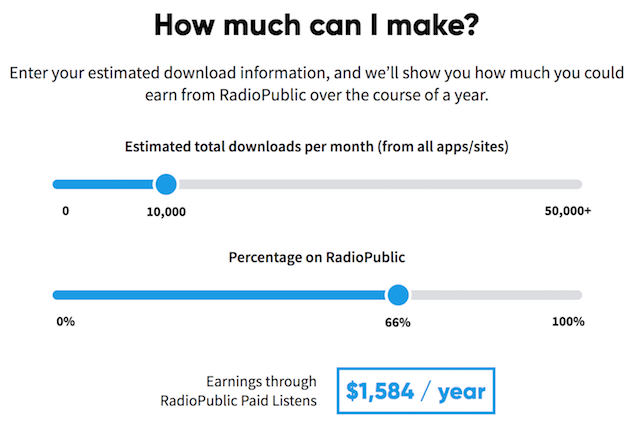 RadioPublic introduced a Paid Listens program at the beginning of the month, and the podcast company is expanding its resources in this campaign to ensure more podcasters generate revenue. The business has added a calculator to its website that lays out the arithmetic behind potential Paid Listen earnings.
The calculator has multiple uses. Most explicitly, it may convince podcasters of a certain size and scale of the value of the Paid Listens program. For instance, a podcast with an estimated 3,000 total downloads per month could expect ad revenue of $144 per year if 20% of those downloads come from RadioPublic. If 75% stems from RadioPublic, the figure rises to $540 a year. When a show has amassed an estimated 30,000 total downloads per month, just 50% of those coming from RadioPublic would yield $3,600 a year. The company's calculator includes an option to compare to how its rates stack up against an individual show's efforts to sell and secure ads. The comparison is decidedly in RadioPublic's favor.
But it also offers some insight into the difficulty for any podcast to secure steady money. Given the still-nascent access to actionable metrics, it may be difficult for podcast producers to create an accurate picture of their prospects. RadioPublic's Paid Listens is an exciting and meaningful step towards ensuring that podcasters have the infrastructure to earn money for their work, and the new calculator seems to offer a reality-setting stepping stone to sustainable financial success.