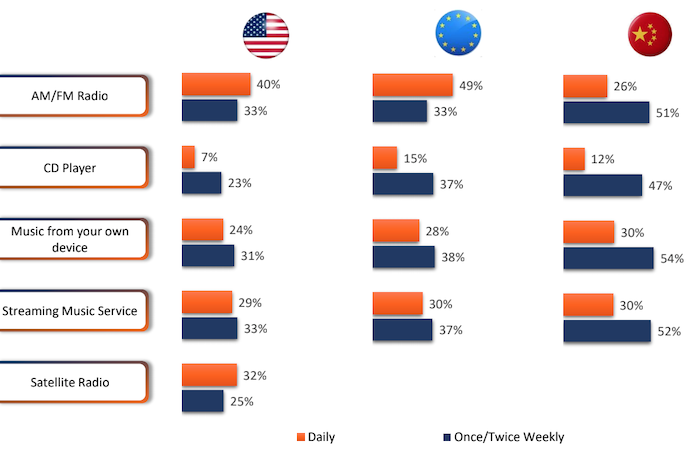 Strategy Analytics has released a study examining the outlook for terrestrial radio as alterative entertainment options take hold in cars. The survey of 4,790 car owners in the U.S., the UK, France, Germany, Italy, and China pointed to a downward trend for terrestrial radio in favor of streaming and satellite radio.
Survey participants were asked about their use of AN/FM radio, CD players, audio on own devices, streaming music platforms, and satellite radio in cars. In China, use of AM/FM radio fell short of the rates for streaming music and owned devices. AM/FM radio received daily use for 26% of the respondents and once/twice weekly use for 51%. Own device music had 30% daily use and 54% once/twice weekly use, while streaming music platforms had daily use of 30% and once/twice weekly use of 52%.
In the United States, AM/FM is still the leading daily feature with 40%. However, it was about even with other media options in once/twice weekly use at 33%, the same as streaming music services and just edging out the 31% for own device music. The combined European markets also showed terrestrial radio with a lead in terms of daily use, but a much closer clump of response rates when looking at once/twice weekly answers.