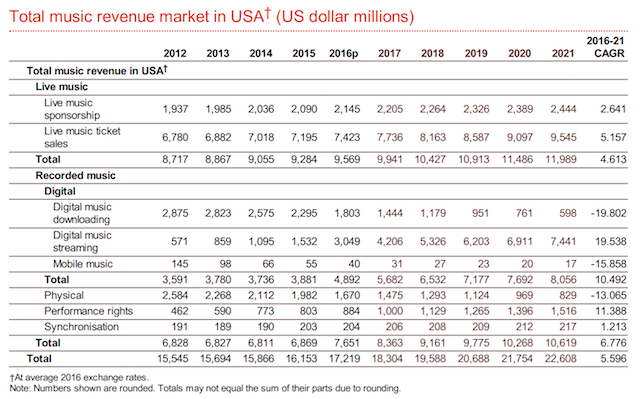 Yesterday we shared the top-down global overview from PwC's Entertainment and Media Outlook. Today's we'll drill down into the report's data specifically for the United States. The results point toward projected total entertainment and media revenue of $666.13 billion in 2017. The market is expected to see a compound annual growth rate of 3.632% between 2016 and 2021. Music revenue in the U.S. is projected to hit $18.3 billion in 2017 with a CAGR of 5.596% for the report period.
2016 marked a new degree of maturity for the streaming music market. Digital music streaming revenue was $3 billion in 2016, up 99.1% on year, according to PwC. It had a 62.3% share of the U.S. digital recorded music revenue for the year. (That general performance mirrors the findings from other industry analyses by the RIAA and Nielsen). By 2021, music streaming revenue is projected to reach $7.4 billion with an impressive CAGR of 19.5%.
The report turned a focus onto several key music properties that will influence the U.S. market in the coming years. PwC highlighted Apple Music and it's quick rise to a top position in just two years. It also noted the on-demand subscription services launched recently by Pandora and iHeartRadio.
The report also presented data about the radio industry. In 2016, total radio revenue in the U.S. reached $21.9 billion. That makes the one market 49.6% of global radio revenue. The projections through 2017 showed reduced growth for terrestrial radio broadcast advertising (CAGR of 0.425%) while online advertising for terrestrial radio is expected to bloom (CAGR of nearly 8.6%). However, the broadcast advertising still has a larger market share with $16.28 billion in 2016 and $16.63 billion projected for 2021. Online ads had $1.35 billion revenue in 2016 and that could rise to $2.042 billion by 2021.
Podcasting also merited a special mention in the radio section, with PwC noting that the audio format is assuming a larger role. "In the same way that Netflix and Amazon have helped to change audience viewing habits from a content-push to a content-pull experience, the same could happen for the listening audience as well," the report states.