Jacobs Media has released its Public Radio Techsurvey 2021, the latest in an annual canvas of public radio listeners. Nearly 23,000 people were surveyed in June and July for this edition. Most respondents were sourced from public station databases and are "Public Radio core users." Fifty-six percent are attached to News/Talk stations. Fifty-eight percent are Boomers; 87% are White.
Core Values and Covid
77% own an in-home radio. That said, public radio's "core values" still register well — these include trustworthiness, news information, learning, deep perspectives, respect for listener intelligence, and balanced perspectives.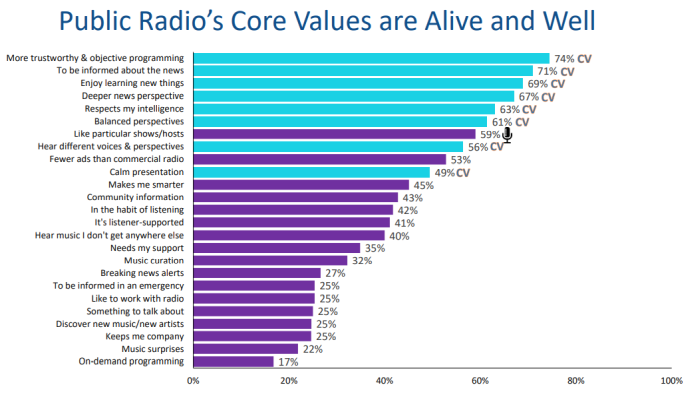 It appears that public radio has been stressed by Covid, but also benefited to an extent. The main reasons for listening to pubic radio less are "Less time in a car" and "Lifestyle change." Meanwhile, those who listen more also claim "Lifestyle change," plus "The current political climate."
Speaking of politics, Jacobs calls the post-Trump news cycle "less cume-urgent." Resultantly, women and "progressively younger listeners" are tuning into news less than before.
The survey puts forward a "Net Promoter Score" (NPS), a measurement of likelihood to recommend. This year that score dipped, but remains high — second only to Christian radio.
Streaming Audio
About half (49%) of surveyed public radio listeners use streaming audio every day. Sixteen percent never do. Those stats are skewed generationally: streaming audio is most embraced by Millennials and Gen X respondents.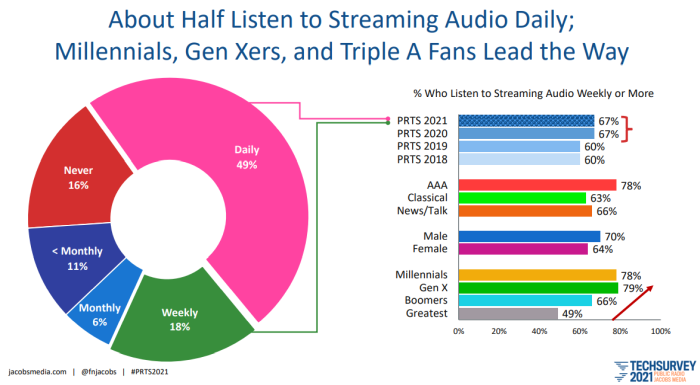 Another note on streaming audio use: Two of three users listen to their public radio stations' stream at least weekly. Jacobs says this is "far ahead of other types of online audio."
Meanwhile, streaming video is comprehensively popular, with nearly nine of ten respondents (88%) subscribing to an online video service. That compares to only 56% who subscribe to a streaming audio service.
Podcasting
This interesting graphic illustrates how podcasting is consumed by public radio listeners surveyed by Jacobs: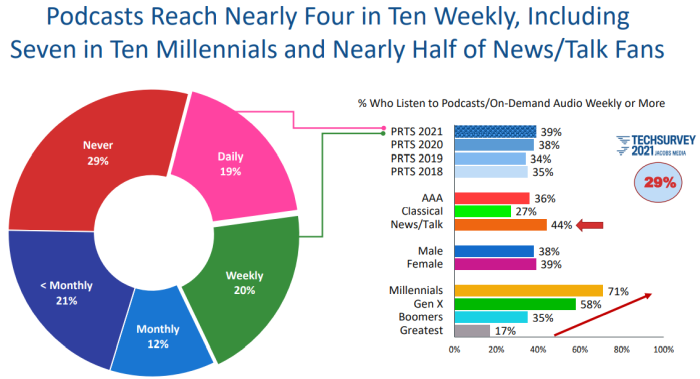 As it stands in this survey, 39% of public radio listeners queue up a podcast at least weekly. Remarkably, that number soars above the U.S. average of 18%, as documented in The Infinite Dial 2021 produced in March by Edison Research and Triton Digital. That report surveys American more generally, 12 years and older.
News/Talk listeners lead the way in podcast adoption — not surprising when you consider the success of NPR's Up First morning news show. As with streaming audio adoption generally, youth is leading: 71% of Millennials listen to podcasts weekly or more.
Key takeaways
There is more to this report; we encourage getting it HERE. Key points as stated by Jacobs Media:
The COVID recovery is underway, but some key conditions (in-car, WFH) are still in play,
while newer habits (audio/video streaming) are becoming frequent and consistent.
Public Radio's "core values" are intact, but all signs point to a "down" news cycle.
Secondary listening platforms are rising in importance, especially streaming, apps, and
smart speakers.
Alternative news sources – daily news podcasts, newsletters – are becoming more
important.
A generational strategy is of paramount importance for most Public Radio stations.
Podcasting continues to grow in popularity, especially among younger generations.
In-car listening has rebounded some, but still below pre-COVID levels.
The "subscription economy" is real. Can Public Radio cash in?
Online gatherings are a frequent place to meet. How can Public Radio use this highly
popular technology?
.