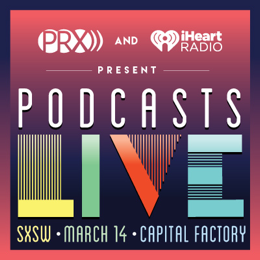 PRX and iHeartRadio are collaborating on a day of live podcast performances at SXSW. The participating shows are:
Another Round from BuzzFeed
Mortified from Radiotopia
CRYBABIES from Earwolf
Intercepted from First Look Media
Joseph Fink from Night Vale Presents
Dinner Party Download from APM
Wrongful Conviction from reVolver Podcasts
Found from Wondery
Podcasts are usually put through re-recording and editing in order to get a polished final episode. The trend of live podcasts requires hosts and guests to be as prepared with their material and as careful about their timing as possible. Live takes can also bring extra energy to a show, especially when centered around a cultural event like SXSW.