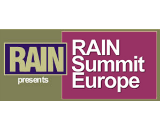 Advertising and monetization of streaming audio were key topics at RAIN Summit Europe (Nov. 4 in London). In the Streaming Ad Sales Strategies panel, programmatic advertising got a lot of attention. (Listen to the audio recording below.)
Programmatic buying platforms, on which advertisers can use real-time software to purchase inventory associated with audience segments and listener attributes, is gradually gaining awareness and adoption in the audio realm. Generally, audio lags behind web display ads and video ads in the adoption curve.
"The money is flowing to programmatic," said Benjamin Masse, SVP and GM of Advertising at Triton Digital.
One of the reasons for that flow, according to Masse, is advertiser expectation of digital precision. "Advertisers expect post-campaign reporting, not just reach and frequency," he said during the panel. "Reach-and-frequency is too broad."
So is brand-only selling, according to Radionomy CEO Alexandre Saboundjian, also in the panelist lineup. "We never sell brands. Advertisers do not ask to be on a single brand. They increasingly send RFPs for impressions on mobile."
Saboundjian also noted that a problem in the programmatic realm is lack of inventory. There is more demand than supply, as advertisers are moving into programmatic faster than audio publishers are embracing it.
Publishers are sometimes reluctant to put their inventory in automated systems which deliver pricing efficiency, partly in fear of lowering yields. Benjamin Masse refuted that assumption:
"That's a false perception. The purpose of programmatic is not to optimize remnants, but to streamline operations. It also enables marketers to specify the audience. That ability commands premium pricing — high double-digit CPMs, at parity with premium radio spots."
Alexandre Saboundjian assessed programmatic buying at zero in Europe, and one percent in the U.S. But he expressed optimism that as U.S. participation in audio programmatic buying grows, the European market will follow.
The panel was moderated by Alexis van der Wyer, CEO of ad-tech company AdsWizz. Robert Proctor (CEO, AudioBoom) and Stuart Mays (Director of Commercial Strategy, Global Radio) were also onstage. Click the Play button below to listen!