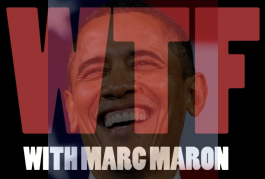 Podcasting continues to grow in visibility and viability.
President Barack Obama is visiting sunny Los Angeles and he is expected to be a special guest on the "WTF With Marc Maron" podcast. The commander-in-chief is slated to record an hour-long, ad-free episode of Maron's show this morning. There's no indication yet of what the two will discuss, but given Maron's usual attitude and Obama's mix of presidential manner and self-effacing humor, it should be fascinating to listen to. The episode is scheduled to go live on Monday, June 22.
Obama's willingness to engage on new media platforms has been one of the hallmarks of his presidency. From actively tweeting to fielding questions from YouTube stars to being a guest on The Colbert Report, Obama has been game to connect with his constituents on a range of platforms.
It's also yet another nod to the increasingly important role podcasts play in the media landscape. The audio format was recognized with a Peabody Award and has seen steady growth in listener numbers.