Podtrac released the September edition of its Top 10 Podcast Publishers list. (See below.) Podtrac notes that month-over-month reach gained one percent, while the year-over-year metric was 64% increase in unique listeners.
NPR took back the #1 spot on the list, after yielding that position to iHeartRadio in August. Trade publications will highlight the predictable back-and-forth trading of these two podcast powerhouses — the difference in audience reach for September was 1,347,000 listeners, which is 5.7% of NPR's listenership for the month.
Of greater interest is the contrasting shapes and strategies in these two networks. NPR's audience is spread across 67 "active shows," while iHeartRadio is measured against 268 shows. NPR's average reach per show is 352,567 unique listeners. For iHeartRadio, that average per show is 83,115. Both networks have masterful hits: iHeartRadio placed three shows in Podtrac's Top 20 Podcasts chart for August (September isn't out yet), and NPR appears eight times on that list. NPR's top show according to Podtrac is Up First (an original  show derived from its morning news broadcast) and iHeart's top show is The Ron Burgundy Podcast starring Will Ferrel extending one of his movie characters into podcasting.
One podcast publisher appears for the first time in the September report: Kast Media, founded by Colin Thompson in 2015. Kast Media has over 30 shows (Sword and Scale, Penn's Sunday School, Art of Charm among them). The company has 14 employees, mostly in L.A.
---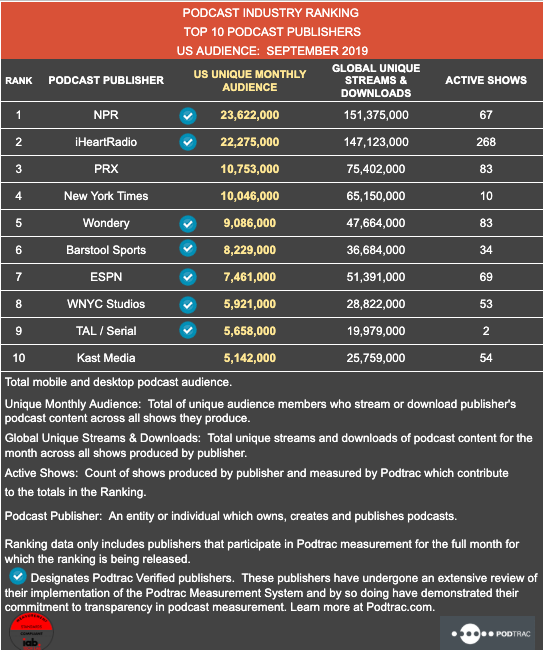 ---