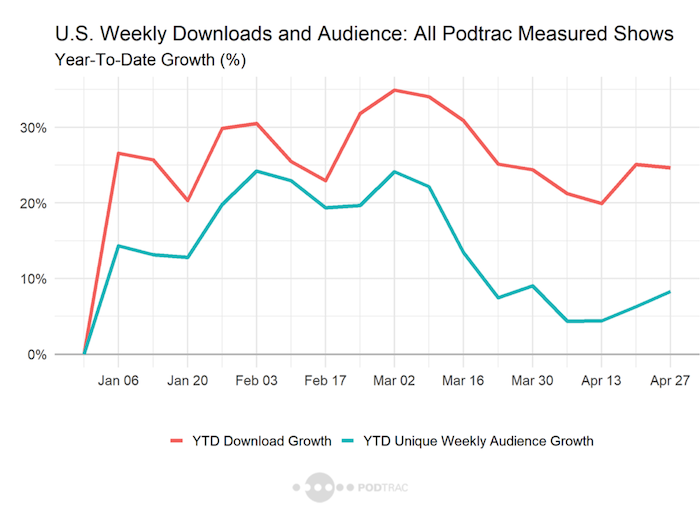 Podtrac is continuing to share weekly updates of U.S. podcast listening, both in downloads and audience, amid the COVID-19 pandemic. Its latest data is for the week of April 27-May 3.
The period was flat from the previous week for downloads, but saw a 2% increase in audience. Those results followed a week where both metrics had risen. The download figures are seeing growth rates comparable to those during January and the slower parts of February. Audience growth is still happening slower than it was at the start of the year before any stay-at-home and other containment measures were enacted.
The breakdown of downloads by category is also showing improvements for some genres. News remains a top performer, with download growth up 68% for the year to date. Comedy has grown 33%, Sports is up 17%, and Business has risen 11% over the course of 2020 so far. Society & Culture is posting a negative rate, down 8% in the year to date.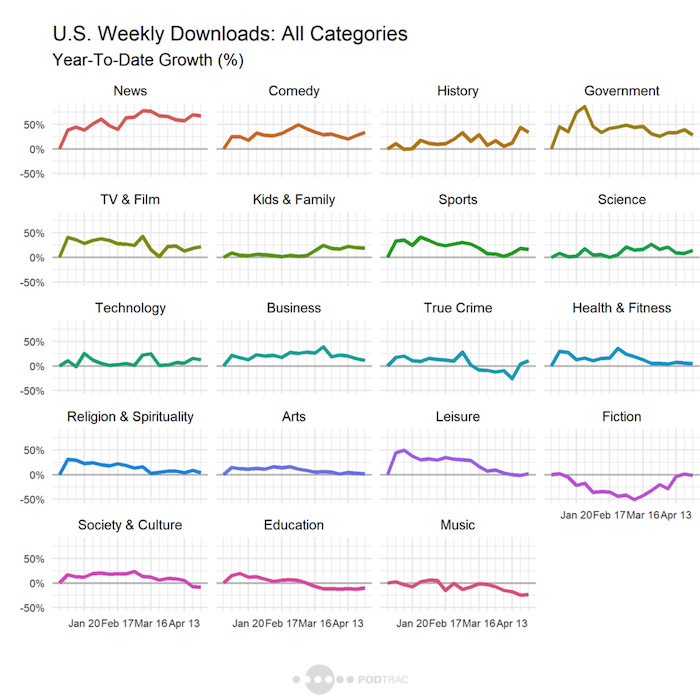 A few other interesting trends are emerging out of Podtrac's download growth charts for different categories. Kids & Family shows have been on a steady rate of download growth beginning around the time when schools closed. It makes sense that parents are on the hunt for content to share with their children, but podcasts in the Education category starting posting declining growth around the same time that Kids & Family content spiked.
Health & Fitness podcasts took a similar trajectory to Education shows, although this category has barely stayed in the positive figures for download growth rates. And even though sporting events and leagues are being cancelled, meaning much less for hosts to discuss, download growth for Sports podcasts has generally remained positive and is even experiencing a small surge in recent weeks.
It's hard to draw any definite conclusions from a dataset that is still being collected as pandemic safety measures continue to change. But one emerging idea is that listeners may have certain types of podcast content tied to specific activities or certain mindsets. The slowdown for Health & Fitness, for instance, at a time when gyms are closed and people need to be more creative for at-home workouts, seems counterintuitive. At the same time, the resistence to getting out for a run or hitting the weights in times of stress is all too familiar for most of us. A split between podcasts focused on facts and information and those with a lifestyle bent may wind up seeing very different results during this tumultuous year.