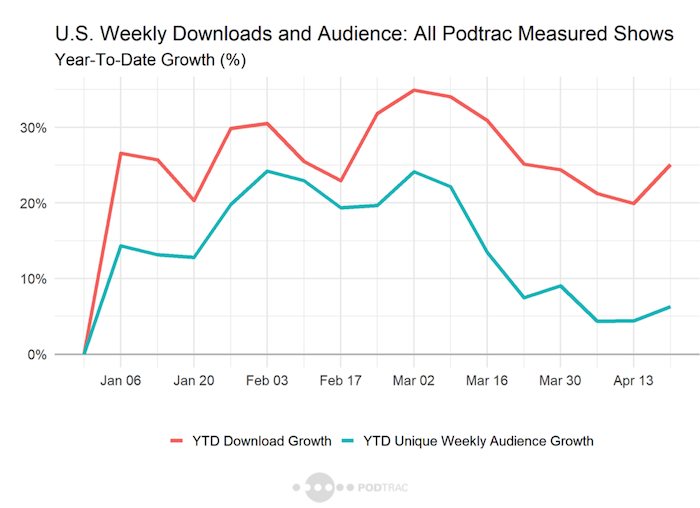 Podtrac has shared its weekly podcast listening data of audience trends during the coronavirus pandemic. The period of April 20-26 included two promising results: growth in downloads and audiences.
Last week, Podtrac found a 4% increase in downloads for all of the podcasts it tracks compared with the week prior. It also reported a 2% weekly increase in audience. April 20-26 was the first week since the first in March that both figures were positive. Both metrics are also up over the year to date. Weekly downloads are up 25% from the first week of January and weekly audience grew 6% since then.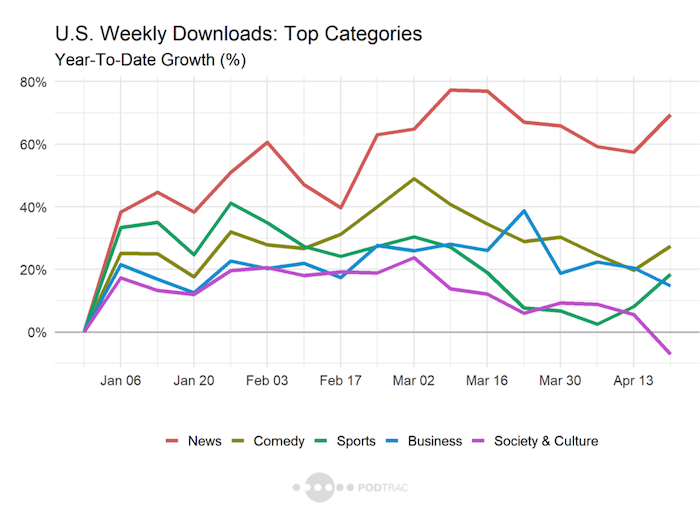 Podtrac also broke out performance by podcast category. News shows kept their lead, with +69% growth in downloads for the year-to-date. Comedy came second with 27%, followed by sports with 18% and 15%. Society and culture took a drop of 7% in downloads to date.
The category results also showed some interesting spikes in downloads with the week-over-week figures. April 20-26 saw jumps of 40% for true crime and 28% for history compared with April 13-19. Society and culture downloads fell 12% week-over-week, and music podcasts also posted a decline of 8%.