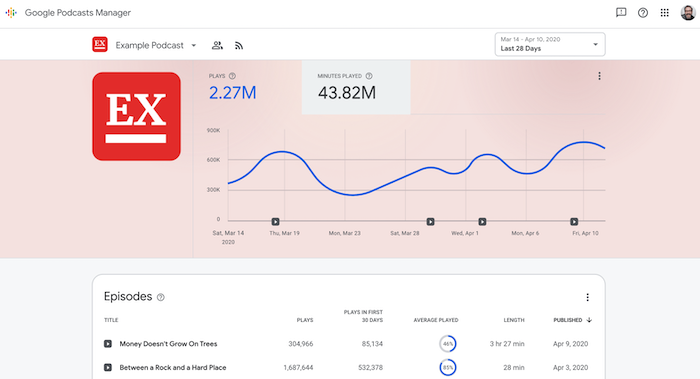 Google has unveiled an analytics tool for its podcast platform. The Google Podcasts Manager is the first move by Google to put data and analysis into the hands of creators using its service to distribute their shows.
The service will offer podcasters insights into audience habits, including retention, listening duration, and device data. It will also let creators claim their shows and verify them to make sure that the podcast is available consistently across Google Search, Google Assistant, and the Google Podcasts app.
The screenshots here, provided by Google, show the type of dashboard experience users will have using this tool.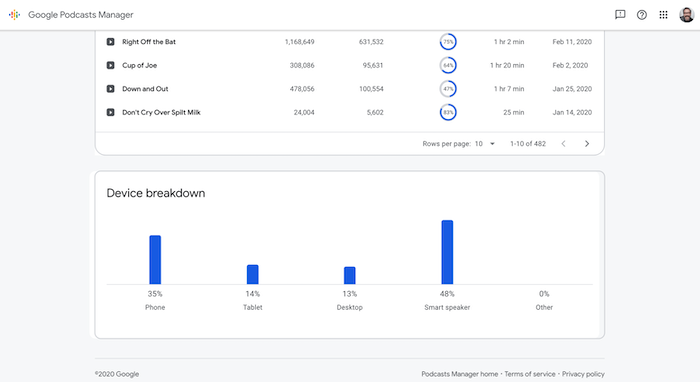 Google has been playing catch-up in the podcast space from the launch date of Google Podcasts, its app for native Android listening, back in June 2018. At that point, Apple Podcasts was already well entrenched as the industry leader and Spotify was making early deals that started its path to rapid audience and content growth. Google has been updating the listening app with more granular features since its initial launch to improve the listener experience, even rolling out an iOS version. But getting traction requires a critical mass of users both on the audience and content sides. Just about every major podcast platform already has tools to let creators monitor and manage their presence. This launch is both long awaited and long needed for Google to make its service more attractive to professional podcast industry.