Podcasting attribution company Podsights has announced a $4-million fundraise from existing investors Greycroft, Supernode Global, BDMI, and Betaworks. New participants are Graham Holdings and Aglaé Ventures.
The company plans to expand its staff, and lists several open positions in the funding announcement.
Podsights is one of a cohort of relatively new startup platforms which verify the effectiveness of podcast advertising by tracking leads, visits, and sales resulting from a podcast ad campaign. This is possible via tracking pixels that connect a device which downloads a podcast to that same device which visits a website and perhaps makes a purchase. This is arguably a deeper and more granular sort of tracking than the familiar discount codes in many direct-to-consumer podcast ads. Podsights calls it "a new, more holistic approach to the market."
By way of showing off its business growth, Podsights includes a chart with its news announcement, representing the number of impressions the company measured as part of campaigns by month: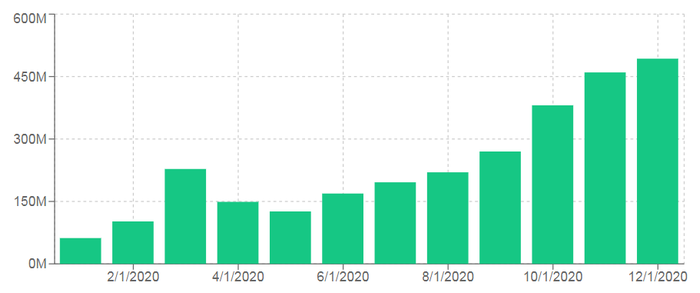 Over two years, Podsights says it has worked with over 750 brands and over $128M in advertising spend. The company promotes its mission this way: "Everything Podsights builds enables marketers to validate and scale their podcast advertising."
.