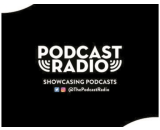 Podcast Radio, the UK all-podcast, 24/7 radio station on the DAB platform, has informed us that Birmingham has been added to the station reach. It is Britain's second largest city. The expansion builds on the station's existing footprint covering London, Surry, Manchester, and Glasgow.
The expansion opportunity came when multiplex space became available. Podcast Radio CEO Gerry Edwards says: "We've wanted to expand to Birmingham for some time now. We've been waiting for space on the digital transmitter multiplex there and as soon as the opportunity arose for further expansion, we grabbed it."
Podcast Radio launched just over a year ago and is an independent platform for discovering and promoting podcasts through digital broadcasting and an online radio-like experience. It features sample episodes of podcasts from all over the world introduced by 'podjocks' who also interview content creators.
The company has also started producing its own shows, collaborating with podcast network Evergreen.
.