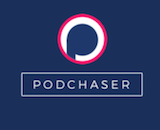 Podchaser, a podcast database company and social network of sorts for podcast listeners, announces today that it has raised $4-million from lead investor Greycroft. Additional investors include Advancit Capital, LightShed Ventures, Powerhouse Capital, High Alpha, Hyde Park Venture Partners, and Poplar Ventures. In addition to all that investment horsepower there are "participating angels" which include founder and former President of TrendKite A.J. Bruno, CEO of Ad Results Media Marshall Williams, and partner of Shamrock Capital Mike LaSalle.
The company plans to build what it calls "a gamification and discussion system that fosters connection between listeners and podcasters."
As the service stands now, it presents a semi-social environment in which users can build shared podcast playlists, rate episodes, and search for personalities appearing in podcasts as guests and hosts. On that last point, Podchaser self-describes as "The IMDb of Podcasting." The company (justifiably) brags of 8.5-million creator and guest credits, ready for searching and discovery.
(As an aside, we use Podchaser quite a bit for discovery.)
There is also a Pro service available for subscription, that provides reach, demographics, and contact information for 1.8-million podcasts. (That should be just about all of them … at least for a day or two.)
By bridging the gap between discovery and much-needed show/program level data, Podchaser is uniquely positioned to push the podcast industry forward," said Marshall Williams, CEO of AdResultsMedia. "These insights provide tremendous value to both advertisers and publishers and also the podcast consumer as it allows perhaps the best search and discovery tool in today's podcast ecosystem."
"Even in the face of a pandemic, the podcast market continues to grow at a breakneck pace. The demand from consumers and brands is insatiable," said Alan Patricof, Co-Founder and Chairman of Greycroft. "Podchaser's data and discovery tools are crucial to taking podcasting to new heights."
.