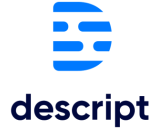 Descript gets a cash pile of $30-million to further its audio/video production business. The plan is to expand from a consumer service targeting amateur creators, adding a new focus on enterprise tools for the internal communication needs of companies. (TechCrunch.)
"We see ourselves… as an all encompassing platform for all media needs," CEO Andrew Mason said. The company's enterprise client list already includes NPR, The New York Times, and VICE.
This is Series B funding. Descript received $15-million in September 2019. The new funding is led by Spark Capital, Andreessen Horowitz, and Redpoint Ventures.
Currently, Descript markets to independent creators, amateur, semi-pro, and professional, with smart tools that record, transcribe and edit audio and video combined. The focus is on ease of use, and the promo materials dramatize blazing success for people with zero experience of previous capability in post-production. Features include automatic transcriptio;ns of audio files within videos, putting those transcriptions on the screen, and enabling editing of the audio file via removing words from the transcript (or changing words, startlingly).
Descript is positioning to be an interesting pivot point for podcasters who might want to expand into video and YouTube distribution of their shows, but are unclear how to transfer hard-won audio skills into video.
.