In a data-rich blog post informed by Magellan AI research, Westwood One has published a raft of research findings about podcast advertising. The headline is that podcast advertising is "pandemic proof," based on the field's resiliency from pandemic disruption.
"Podcast advertising is pandemic proof: Ad volumes quickly recover and surpass prior levels," the article asserts. April was the painful month according to this research, as the number of unique advertisers dropped 12% from March. But in May the numbers bounced back to March levels, and remained strong in June: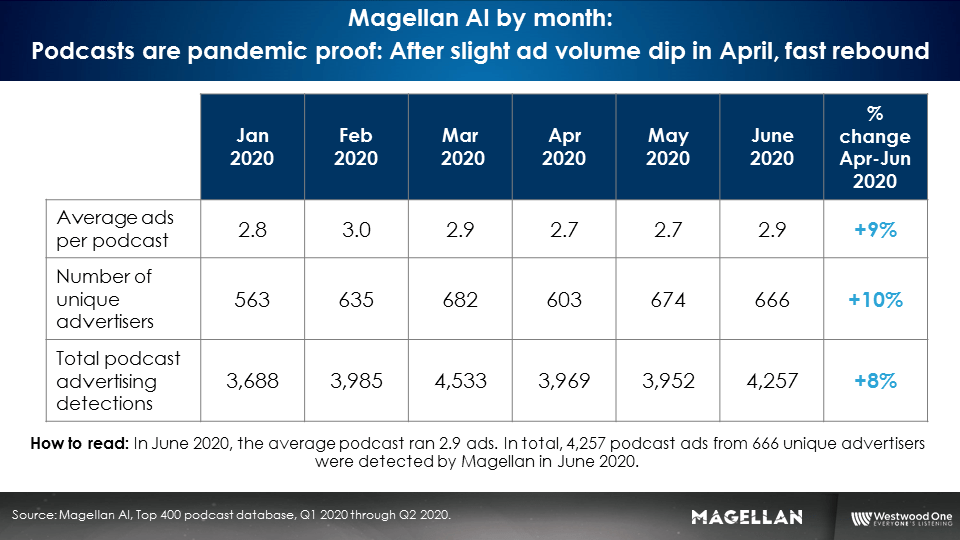 Harking back to january, the June numbers are gleaming: +18% for unique advertisers and +15% for ad occurrences.
The report also reminds readers that the IAB (via its annual report in collaboration with PwC) project over $1-billion in podcast ad dollars next year.
Taking a longer view, by quarters from Q4 2018, the research shows a mostly consistent trend with an interesting twist. The number of unique advertisers is +2%, and number of total ads is also +2% — that is basically level over six quarters. But the average number of ads per podcast dropped -13%. With the buyer appetite fairly level, we presume that the drop (average ads per podcast) is due to the widening field of podcasts. In other words, the same number of advertisers buying into a bigger inventory.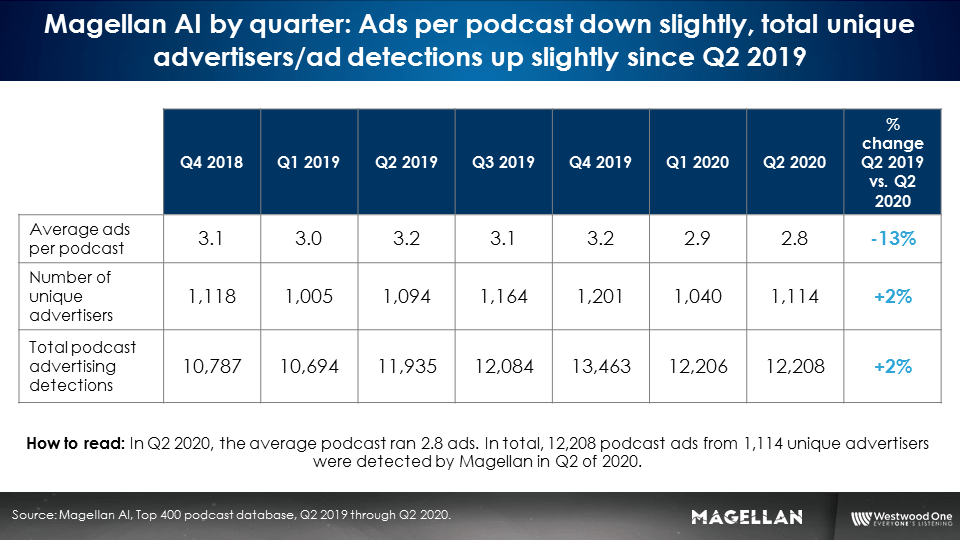 The ad load metric is quite interesting, and Doug Hyde (the article's author) drills into it. "Depending on the TV network, advertising can represent 23% to 27% of programming. According to Magellan AI's Q2 2020 ad occurrence analysis of the top 400 podcasts, advertising represents only 5% of podcast program content."
Remarkably, that metric remains stable no matter the podcast length. That's why Joe Rogan can voice 8-9 minutes of host reads before introducing his guest, and it feels excusable in the context of a three-hour program.
This research dives deep into the growth of brand advertising. Brand advertising now takes 38% share of all podcast advertising, according to Magellan, and has grown that share by 46% over the past year. The number of detected ads from the top 10 brand advertisers has tripled year-over-year. (The study calls this the "weight" of brand advertising.) And there is overlap between podcast brand advertisers and those in AM/FM radio, perhaps indicating the growing comfort of agencies which handle client campaigns across audio categories.
GO HERE to see the Westwood One write-up of Magellan's research.
.