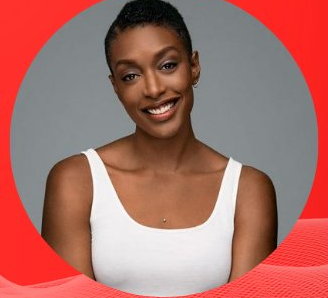 The Interactive Advertising  Bureau (IAB) has revealed the host of this year's Podcast Upfront in New Y– oops, sorry, we were overcome by habit. This year's event is virtual, and will be hosted by actress and comedian Franchesca Ramsey. The event transpires over three days next week: September 9-11. (Go HERE to request an invite to this invitation-only event.)
Joining Ramsey at various points in the program are three co-hosts:
Host of "Talk is Jericho", Chris Jericho

Host of "Our America", Julián Castro

Host and Reporter of NPR's "Planet Money", Sarah Gonzalez
The online venue allows the IAB to dramatically extend the length and expand the number of presenters. Here, in convenient graphic format, is the roster of presenting networks and ad-rep firms:

The speaker roster is a glittering array of power people, both podcasters and executives. Tom Webster starts it off with a brief opening keynote.
Below is a complete schedule of presentations. Much more detail about each slot, and all  the speakers, is at the IAB Podcast Upfront web page.
IAB 2020 Podcast Upfront Schedule (September 9 to September 11)

All times are in EST; timing is not exact and subject to change as there will be a mixture of pre-recorded and live events throughout the day

Wednesday, September 9
Thursday, September 10
Friday, September 11
12:00pm

Tom Webster Keynote

12:00pm

ESPN

12:00pm

Westwood One

12:15pm

NPR

12:25pm

Barstool Sports

12:30pm

PMM

12:40pm

IAB Welcome with

David Cohen

12:45pm

ViacomCBS

12:50pm

Live Recording of the Monthly Report Podcast

12:45pm

Cadence13 and Pineapple Street Studios, both part of Entercom's podcast network

1:05pm

Vox Media Podcast Network

1:25pm

ART19

1:10pm

Forever Dog Productions

1:25pm

LAist

1:45pm

Authentic

1:25pm

AdsWizz*

2:00pm

American Public Media

2:10pm

Meredith Corporation

1:55pm

Stitcher

2:20pm

Acast featuring BBC

2:30pm

Podcast Upfront Wrap Party

2:20pm

Wondery

2:45pm

Podsights*

2:40pm

WarnerMedia Podcast Network

2:55pm

Pushkin Industries

2:55pm

iHeartRadio

3:10pm

The New York Times

3:20pm

Sony Music Entertainment
* Indicates insights presentation