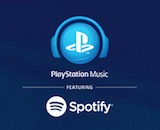 Sony's PlayStation consoles rolled out a new music feature, powered by Spotify, last March. The partnership kicked off strong, with an impressive 785 million tracks streamed on the PlayStation 4, the company's latest gaming hardware, in less than three months. Now, after a year in operation, the companies have announced that across all compatible PlayStation devices, the music app has seen 5 billion streams.
Drake was the most-streamed artist, followed by Eminem and Justin Bieber. Major Lazer's "Lean On," which was generally a big hit on Spotify, was the top-streamed song. Saturday was the most popular day worldwide for just listening on the Sony hardware, but Friday from 8:00-9:00 pm was the top hour for listening while gaming.
The app is available on the PlayStation 4, PlayStation 3, and Sony's Xperia device.