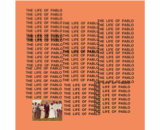 The saga continues! A new song from Kanye West briefly emerged on Apple Music then disappeared again. The track, called "Saint Pablo," showed up in a user's profile on Apple Music and quickly circulated on Reddit and through the music media. But the track was promptly removed.
NME reports that the song's lyrics directly address West's discussions with the Apple camp and his choice to stick with Jay-Z's Tidal. Interesting then that the song cropped up on Apple Music.
It's easy to see West and his regular reappearances in headlines as fodder for jokes, to wave it off as part of his embodiment of the artistic temperament persona. But all of these unfolding developments do in fact have some bearing on what artists experience with an album launch in the current business ecosystem. Material can get leaked, and managing distribution across the growing range of available platforms can be a full-time job in itself.