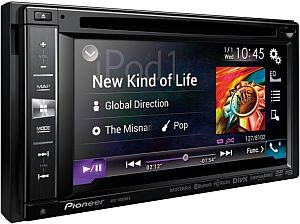 Sitting between plug-in dashboards and full-service dashboards sits the connected-car aftermarket, where Pioneer is a leading manufacturer. Aftermarket infotainment solutions furnish an alternative to cars where you plug in your smartphone (e.g. Ford), and also to cars that build Internet-enabled dashboards with embedded apps (like some Chevrolet models).
The Pioneer NEX line comprises five head-unit models with a range of information and entertainment functions. Aha Radio and Pandora are promoted as built-in audio services. Other music apps are available through the NEX headunit if they contain Pioneer's AppRadio code, much as Ford's SYNC dashboards interact with smartphone apps containing Ford's AppLink function. But backward compatibility isn't the main point of NEX; it is the full-service solution that obviates pulling out a smartphone at all: "…bridging the gap between smartphone tethered products like AppRadio and traditional multimedia products like navigation and DVD receivers," according to Pioneer VP Ted Cardenas.
The NEX also features HD Radio, SiriusXM, and (Apple's) Siri voice command capability. Some NEX models can layer navigation, traffic, and weather information on on existing map screens, but doing so requires connecting a smartphone.