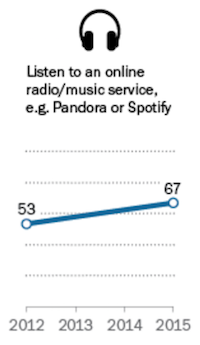 The Pew Research Center examined the proliferation of tasks that people use their smartphones for over time. In 2012, 53% of respondents said they had ever used their phone to listen to online radio or a streaming music service. By 2015, that figure increased to 67%.
Music tasks have a sharp age divide. Among the 18-29 group, any phone use with online music services hit 87%, with 30-49 at 74%. But the rate falls off to 41% in the 50+ group. Mobile music does outrank movie streaming in this study, although the other entertainment medium did post an increase from 15% in 2012 to 33% in 2015.
Other increasingly common uses for smartphones included getting directions, recommendations, or other location-based information, which 90% of respondents said they have done at least once, and participating in a video call or chat.