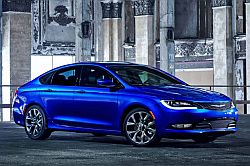 Pandora just sent a press release announcing its inclusion in the newly-introduced 2015 Chrysler 200. It is the first Chrysler to feature built-in Pandora access in the dash. Chrysler is the 25th major car company to partner with Pandora for in-car Internet radio listening.
The Chrysler 200 made a splash this week at the Detroit Auto Show, the most influential of the major-city auto shows around the world. The Detroit event occurred the week following CES in Las Vegas, which itself was a show-off venue for connected cars this year. Chrysler's 200 model comes from the Sebring legacy, and received an informal "most improved" nod from CNET. Chrylser president Al Gardner called the 200 "our new flagship model." The New York Times dryly noted: "Chrysler's midsize sedans have had a mortality rate akin to that of a Spinal Tap drummer."
Anyway, it's a highly publicized new car model, and, as usual, Pandora has wedged itself into the news with its aggressive distribution strategy in automobiles.