BIA/Kelsey has published a study of mobile advertising growth, sponsored by mobile ad network Verve Mobile. While serving as promotion for Verve, the report also identifies data points and defines new advertising technologies. The key technology focus of this report is "Attribution," which purports to quantify the effectiveness of mobile ads, post-impression. As such, the report's conclusion is that "closing the loop" will drive advertisers to adopt mobile campaigns.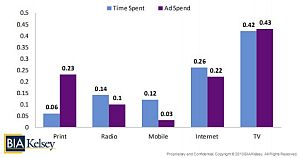 Setting up this thesis is an important BIA/Kelsey datum: Mobile advertising is disproportionately low — not only disproportionate to other mediums like Internet and TV, but also compared to the time spent in all mediums. The report's solution is a so-called "feedback loop" that quantifies ad ad's effectiveness in the mobile world. Although this report is not focused on audio advertising per se, it pertains to the growth and technological innovation happening in Internet listening.
There are two part of the "closed loop." First, audience targeting. 2013 was the year (mainly the second half) in which targeting audience segments of Internet radio began maturing. While not yet close to the laser-sharp contextual targeting of websites, technology companies such as AdsWizz and The Echo Nest (and Pandora among the music distributors) are developing new ways of creating a listener profile that advertisers can aim their ads at. On the mobile side, the recent partnership of AdsWizz and HARMAN's Aha Radio promises startlingly clever mobile targeting that includes the listener's car model, it's location, and the direction it's moving. That precision will lead to in-car calls to action that relate exactly to the driver's potential need, trajectory, and environment.
All well and good for targeted delivery. The other part of the "closed loop" is feedback about the ad's effectiveness. Reaching the right person doesn't have reportable conversion value if the conversion cannot be tracked. That's where "attribution" comes in. The report identifies three methods of closing the loop of an ad's post-impression effectiveness: Location Data Analysis (e.g. using a smartphone's GPS to track a user's foot traffic); Panel Data (the report cites Nielsen as a recent entrant into foot traffic measurement via panel); Offline Purhcase Data (e.g. coupon redemption).
According to the report, another uphill climb in driving advertiser adoption of mobile is convincing advertisers of its conversion value in theory. Many advertisers are focused more on the "upper funnel" (brand exposure) of mobile, rather than the "lower funnel" of conversion.
The free report can be downloaded here: Attribution: The Next Phase in the Age of Mobile Advertising.