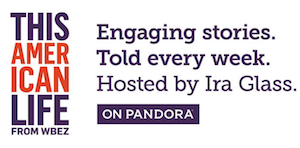 Pandora has partnered with the This American Life podcast. The audio program, produced in collaboration with WBEZ Chicago and hosted by nerd hero Ira Glass, now has its own channel on Pandora where listeners can tune in to hear compelling or unusual stories about whatever that week's theme is. New episodes will air on Mondays.
"Pandora listeners loved Serial, to the tune of over 15.6 million streams of Season One and Season Two," Pandora Chief Product Officer Chris Phillips said. "There's a huge appetite for a wider range of entertainment and deeper listening experience, and we can't wait to introduce our listeners to the compelling storytelling in This American Life."
This American Life's format on Pandora is similar to the audio platform's approach to broadcasting Serial. Each episode is broken up into several parts, and listeners can skip between them. Serial was Pandora's first foray into a podcasting crossover, as it became the exclusive streaming distributor for the second season of the wildly popular true crime show in November.
We already knew that Pandora was angling to add on-demand music to its existing radio service. The company snapped up assets from Rdio in late 2015 and has publicly shared plans to incorporate on-demand later this year. But the interest in podcasting and other audio content was not explicitly made a part of that roadmap. Many of Pandora's soon-to-be rivals in on-demand listening, such as Spotify and Google Play, have been adding podcasts to their catalogs. If the adoption of more audio programming is a new effort to keep pace, then Pandora is certainly moving quickly and wisely in the content it has chosen to target: This American Life is currently downloaded by more than 2 million people each week.