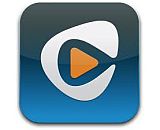 Rhapsody International's brand new CEO Mike Davis has been on the job for less than a week, and grabbed some public attention with a blog post announcing positive numbers for the streaming service. Here are the bullet points Davis put out:
Subscribers are listening to 40 percent more music on their phones compared to last year.
Over the past six months, the amount of time subscribers spent in the service on a weekly basis increased by nine percent.
In the past 90 days, listening hours increased by more than 15 percent.
Canada is Rhapsody International's fastest-growing market, where Napster experienced an average subscriber growth of eight percent per week in its first three months.
Rhapsody is the great uncle of on-demand music services, launching in 2001 with a single label in its catalog — classical music purveyor Naxos. Rhapsody has weathered the shifting tides and rumbling earthquakes of the streaming audio landscape with a highly refined desktop and mobile product. "As we celebrate Rhapsody's 15th year, I look forward to continuing our mission to build the best way to listen to, discover and share the music we all love," Mike Davis said.