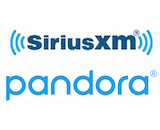 In an example of SiriusXM's cross-platform strategies, the satellite company will broadcast one of Pandora's new weekly "Thumb" playlists. Alongside that announcement Pandora is also pushing a top-100 playlist to be refreshed each week.
A "Thumb" playlist is informed by Pandora users' thumb-up actions on individual tracks. The company takes the entire thumb-up database across all listeners during the week, and makes a top-100 list out of it. It's called "Pandora Top Thumb Hundred" and lands on Mondays.
Using the same method, a top-20 list is also manufactured and is broadcast on the Pandora Now channel (Channel 3) at SiriusXM. The list will be presented as a countdown, hosted by Chris Booker. The pandora Now channel was started in April 2019, quickly after the Pandora acquisition.
"We're excited to provide this early indicator of song performance, capturing and ranking the newest music every week," said Alex Luke, SiriusXM and Pandora's Senior Vice President, Digital Content, and RAIN Summit speaker. "Thumbing activity on Pandora has proven to be a great early indicator of listener affinity and now we can provide a glimpse into that, every Monday."