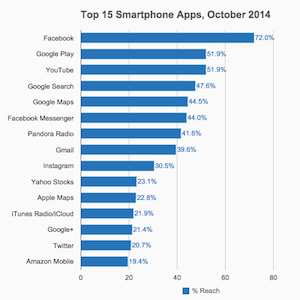 ComScore's latest data covered trends in the U.S. smartphone market, including an assessment of the most popular apps as of October 2014. Only two music apps make the top 15: Pandora with 41.6% reach and iTunes Radio/iCloud at 21.9% reach. The app data came from adult smartphone mobile media users from the iOS and Android platforms.
iTunes Radio is embedded in the iOS Music app, which contains non-streaming functions.
Those results are pretty well in line from other comScore findings from the second half of this year, which have consistently shown Pandora as a juggernaut in the mobile field. In its August mobile report, comScore ranked Pandora as the No. 5 most popular app with 69 million monthly users. iTunes Radio/iCloud was the closest music-only service with 40.5 million monthly users. ComScore also ranked mobile programs by time spent in-app in November. Pandora topped that list with an average of 1,271 minutes per visitor.