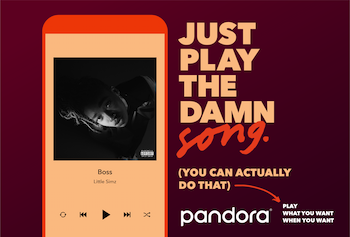 Pandora announced the full rollout of its latest mobile redesign. The new look was introduced to a limited number of users in October. Its new features include a personalized "For You" section and the Pandora Modes option for tweaking the curation algorithms of a station. It also brings a simplified navigation interface to the mobile app.
The on-demand features of the re-design are centered on the Pandora Premium users. However, the audio company has scaled up its Pandora Access program, where listeners at free or Plus tiers can watch a 15-second video ad to get an hour of the Premium experience.
Pandora is backing the mobile launch with a marketing campaign that reflects how much the platform has grown over the past decade. It emphasizes the features that have been added, such as on-demand playback. The multi-channel campaign will include spots for television, OOH, and digital. It will also feature in-person experiences, such as unveiling interactive street murals and hosting a silent disco in Times Square.
"This campaign is all about showing our listeners that Pandora is still the service they know and love, but it looks and feels a whole lot different — a whole lot better. The product is at the center, and we are highlighting the personalized, on-demand content Pandora users want, but may not know we have," said Brad Minor, VP of brand marketing, creative and communications. "We're celebrating our listeners in their everyday lives and demonstrating how Pandora has the unique ability to transform each moment by adding the exact right soundtrack at the exact right time."