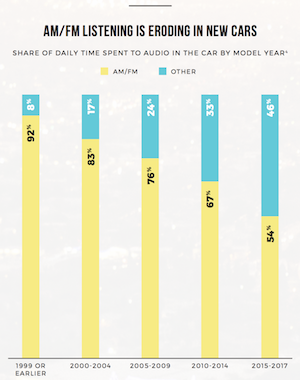 Pandora has given RAIN News a first look at its 2018 Definitive Guide to Audio, a report on the state of the industry with some statistics on terrestrial radio, streaming music, and podcasts. It's a beautifully produced collection of data points and research that (unsurprisingly) creates a narrative showing streaming audio in a positive light. But it also does present some of the pain points facing broadcast in particular as audio consumption changes.
The key points Pandora laid out for AM/FM radio are decreased time spent listening to broadcast and an aging audience. The report says that daily time spent listening to AM/FM has dropped by 34% between 2007 and 2017. That's a comparison between 2007 data from Arbitron Radio Today and the Q1 2017 Nielsen Total Audience Report. Edison's Q2 2017 Share of Ear research also provides the basis for claims that radio is dominated by an aging audience, showing that half of AM/FM's time spent listening done by people aged 52 and up.
The most compelling data points center around radio's popularity in cars. Based on data from Edison's Share of Ear, radio is seeing a decreasing share of daily time spent with audio in newer makes. For model years 2000-2004, AM/FM has 83% of the listening, but that share drops to 54% in model years 2015-2017. The report cited the presence of satellite radio and streaming options in the latest makes as possible reasons for the declining share.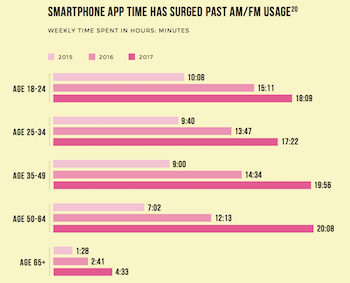 Pandora's guide raises some points that may further limit broadcast's power in vehicles in the coming years. It predicted that reduced car ownership, interest in ride sharing and vehicle sharing, and the advent of self-driving cars could erode radio's share in the future.
Smartphone use is one possible reason why car radio listening has dwindled, and also why streaming could continue to see larger audience shares. Pandora again cited Nielsen for the stat that weekly time spent with smartphone apps was 6 hours, 16 minutes in Q1 2017, up from 11 hours, 36 minutes in the year-ago period. Critically, time with smartphones has been rising among older demographics that are still the bulk of radio's audience. In fact, the age 50-64 group posted the highest weekly time spent with smartphone apps in the Q1 2017 Nielsen Total Audience Report.
The combination of those trends in how people consume audio in their phones and their cars does pose a real challenge to AM/FM radio.