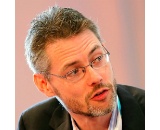 James Cridland is Managing Director of media.info, and an Australia-based radio futurologist. He is a consultant, writer and public speaker who concentrates on the effect that new platforms and technology are having on the radio business. Find out more or subscribe at http://james.cridland.net
---
At Radio Alive
At Radio Alive, the newly-rebranded radio conference in Australia, I sat through some well-produced discussions in the main room before discovering a DAB+ session was going on in a side room.
"Less than 10% of radio listening in Australia is via the internet", said the CRA's CEO, Joan Warner, and shared some more Aussie DAB+ stats. DAB+ is being expanded here in Australia, though in private chats afterwards with people familiar with the project, it seems the slowdown is to do with the regulator and law being achingly slow.
Ford Ennals from Digital Radio UK was there, too. He's keen – along with many others, it seems – that retailers stop selling analogue-only radio receivers. DAB+ is in almost every new car in the UK: but here are the overall figures for all the cars on the road. The user experience isn't very good either – "Two thirds of people didn't understand how to find a station on their digital car radio" said Ford Ennals of their research.
Chris Johnson from RadioApp had some nice data from the app's first twelve months, and lots of other data that I've written up for an article shortly in Radio World. Joe D'Angelo from Xperi shared this example of the complex metadata events in a typical hour of radio. It's more than just a logo if you want to do it right.
Meanwhile, Nick Piggott from RadioDNS showed some nice shots of the new hybrid radio. inside an Audi A8. Finally, Clive Dickens (ex of Absolute, still at Jack Oxford, also at 7 Network) said that "catch-up radio is not a thing" when it comes to the future of radio. He's right – for most music radio programming.
James Cridland's articles
United States
United Kingdom
Australia
Elsewhere