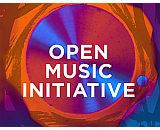 The Open Music Initiative announced the addition of 80 new members. OMI is the project of Berklee College of Music's Institute for Creative Entrepreneurship. It aims to create an open protocol for industry-wide creative rights management and royalty distribution.
The new members include Dubset Media, Napster, Red Bull Media House, The Orchard, Sonos, SoundExchange, Viacom, GMR Marketing, and 7digital.
OMI was first announced in June. The organization still has not come forth with many details about how it plans to approach the thorny issues of rights and royalty management. But it has amassed a large amount of support from all sides, including from companies that often find themselves in conflict over questions of payment. OMI's membership spans many areas of the music industry. Labels, streaming companies, radio, and tech businesses have all signed on to work with the collective.
"The participation from across the industry in this effort is unprecedented and as a collective we are making great steps towards creating a shared digital ledger of music rights holders and creators in order to tackle the critical issue of creator and rights holder compensation in the digital era," said Panos Panay, co-founder of OMI and Founding Managing Director at BerkleeICE.