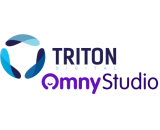 Triton Digital, parent company of podcast hosting and technology platform Omny Studios, is announcing a suite of auditing features for Omny enterprise clients. These tools enable companies to track organization staff who are creating and modifying objects in the company's podcast assets. The objects include chapter markers, clips, playlists, and other items.
Additionally, the audit log can be utilized to track network and organization activity, such as user settings, invites and permissions. To see screenshots of the audit functions in action, go HERE.
While Omny Studio hosts podcasts at all levels, its bread-and-butter business services radio, podcast, news, and sports organizations from around the world such as Bell Media, CRP Radios, DigitalMDE, Grupo Bluradio, and Cumulus Media.
"We remain committed to providing our clients with powerful and innovative tools to support their enterprise podcast strategies," said Sharon Taylor, Managing Director at Triton Digital. "Our in-depth audit log was purpose-built to provide both users and their development teams with the granular information they need to efficiently manage and troubleshoot changes to their content and within their network or organization, enabling them to spend less time manually tracking activity and more time creating great content."
.