Podcast advertising intelligence company Magellan AI released its December report of top podcast advertisers. This month's roundup includes the single-month list, and a year-to-date (YTD) list which serves as a 2020 view of the top marketing money spent in podcasting.
We have gathered the list data into three tables that sort advertising spend in three ways.
First, here is the list by top money spent in December: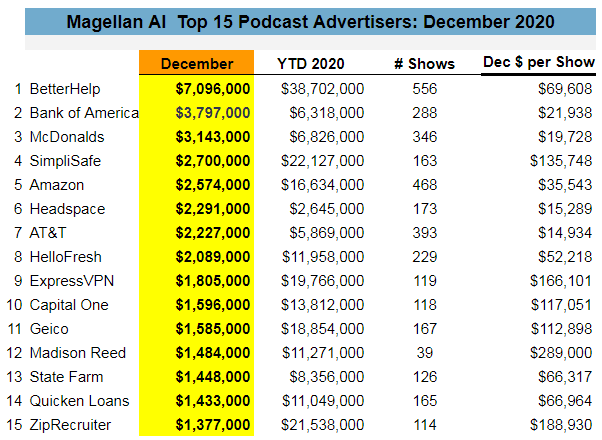 Most avid podcast listeners have heard the BetterHelp live reads quite a bit recently — no surprise to see that service leading the December cohort by a substantial margin.
Next, our sort by magellan's YTD measurement, which represents 2020 as a whole: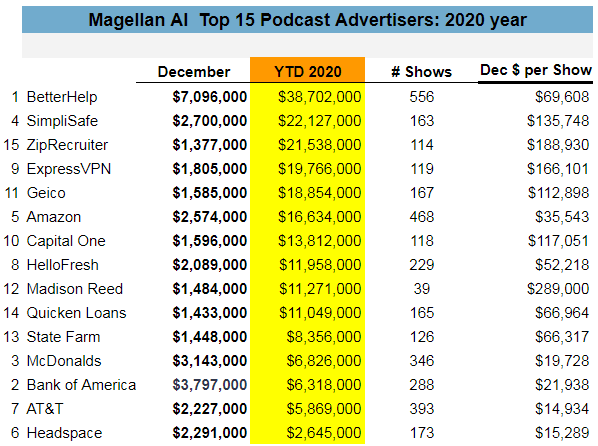 BetterHelp clutches the top spot for the year as well. Not a surprise, one might guess, that a web-based counseling service would thrive during a pandemic.
Finally, we thought it would be interesting to look at concentration vs. dispersion of money in the December list. In other words, dividing the December spend by number of shows in which the advertiser appeared. Below, you can see that Madison Reed had the most concentration in December, spending nearly $1.5-million across just 39 shows for an investment of $38,051 per show. At the other end (not better or worse, just different), Amazon appeared in 468 shows for a cost spread of $5,500 per show in December.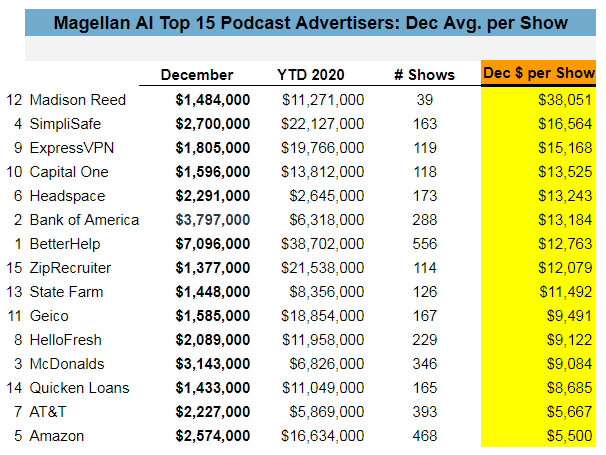 .