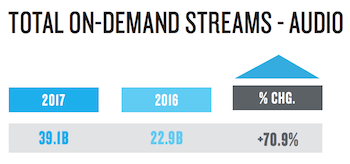 Nielsen shared its 2017 report covering the Canadian music market, and the narrative falls in line with its data for the United States. Total music consumption in the country increased 13.6% to 49.5 million units. Streaming of on-demand audio was the biggest driver of the growth, up 70.9% to 39.1 billion streams for the year.
The nation has been seeing a steady rise in streaming use. On the week ending December 3, on-demand audio streams exceeded 900 million for the first time. Two weeks later, the number had risen to 947 million on-demand streams.
Hip-hop and R&B were the fastest-growing genres in Canada, thanks to an 86.2% increase in streaming. Rap saw its number of streams nearly double from the 2016 consumption with a 98% increase. Ed Sheeran was the year's top artist, and his release Divide was the top album. His single "Shape of You" was the top song for on-demand streaming audio and video, edging out "Despacito" by Luis Fonsi and Daddy Yankee.
Physical album sales dropped 14.1% and digital album sales declined 22.7%. Vinyl sales jumped 21.8%, but still hold a small share with just 804,000 units.