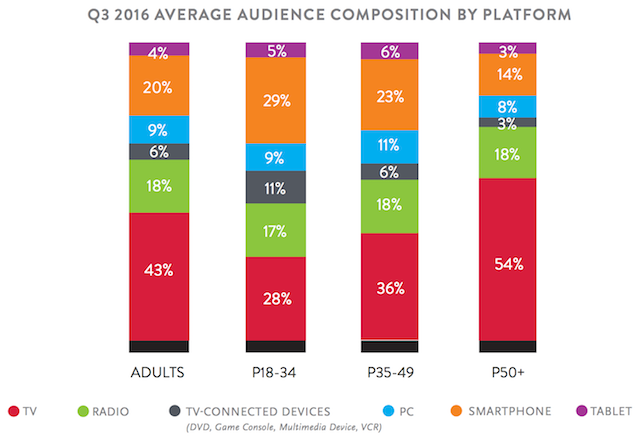 Nielsen has released the Q3 2016 edition of its comparable metrics report on U.S. media consumption. Radio continues to have strong weekly reach at 93% of all surveyed adults. Respondents said they listen to radio an average of 5.1 days a week. It also holds an 18% share of the average audience composition broken out by platform; television remains the biggest slice of that pie for the overall adult audience.
This report often sheds light on how much age impacts media choices. For instance, while television has a 43% share of average audience composition across all adults, for the age 18-34 group, it's only 28%. In fact, television falls second place behind smartphones, which had a 29% share for that demographic. Radio has 17% for those ages.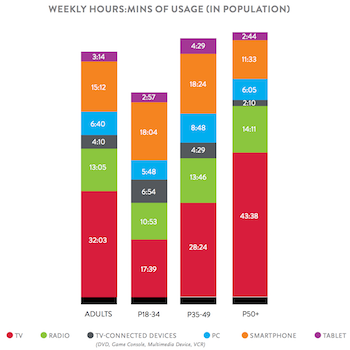 The same trend bears out in the weekly usage numbers. For the combined responses, television sees 32:03 weekly hours of use, radio has 13:05 hours and smartphones have 15:12 hours. When only looking at ages 18-34, weekly usage time for television is just 17:39 hours, radio is 10:53, and smartphones win out with 18:04.
Nielsen also has data for streaming audio on different platforms. In an average Q3 week of 2016, PC streaming audio had 22.14 million uniques with a reach of 9.1% for the general adult. Streaming audio on smartphones had nearly 101.87 million uniques and a 41.8% reach, while tablets took in 35.5 million uniques and 14.6% reach. Compared with the same quarter of 2015, PC streaming audio declined slightly (nearly 23.13 million uniques) while the smartphone listenership grew markedly (nearly 85.94 million uniques).
Looking just at the 18-34 age group shows an even stronger preference for mobile devices. Streaming audio on smartphones posted almost 34 million uniques and 47% reach in Q3 2015; in the same period of 2016, those figures were 40.99 million uniques and 56.1% reach. Radio also posted an uptick for this group, from 66.63 million uniques in Q3 2015 to 67.21 million uniques in Q3 2016.
Smartphone streaming audio rose for the other age groups as well, although it's beginning from a smaller baseline. For the age 34-49 group, the 2015 numbers were 26.24 million uniques with 43.2% reach. In Q3 2016, it rose to 30.44 million and 50.1% reach. And in the 50+ age bracket, the audience rose from 25.7 million to 30.43 million, with reach growing from 23.8% to 27.6%.
Radio audience for the older two groups also rose, but at a slower pace. It went from 57.5 million uniques to 57.63 million uniques in the 35-49 group and from 98.1 million to 100.5 million uniques for the over 50 crowd.