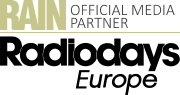 The annual Radiodays Europe conference is set to run next week, with a pre-official smattering of events on Sunday plus an evening reception. One-hundred and twenty speakers are confirmed over 55 stage sessions including keynotes, panels, and presentations.
RAIN is pleased to be a Media Partner of the event, which will be attended (and covered for RAIN News) by RAIN Founder and RAIN News Publisher Kurt Hanson. Click here to see registration options.
Bob Shennan, the new radio director of the BBC, will deliver the opening session which follows various welcomes from RDE leaders and industry luminaries.
The deep and wide-ranging agenda peers into the future with sessions like "2027 — 10 Ways to Get There," and a presentation by Birthe Linddahl, a self-described futurologist.
The connected home gets attention (Michael Hill who runs Radioplayer UK is in that session with Jack Wetherill), and there is a conversation about data-driven audio advertising featuring Sam Crowther of A Million Ads and Frank Bacher from RMS.
Portions of the conference divide into multiple tracks of simultaneous sessions.
There are three workshops at this year's event:
Storytelling for the airwaves: Crafting powerful stories in the digital age.
Online investigation – the essential skills
The mobile video masterclass for radio professionals.
Podcasting is represented in the "Creating Podcast Success" panel. Separately, Manoush Zomorodi, podcast producer at WNYC, will hop the pond to give a presentation.
GO HERE to view registration options.