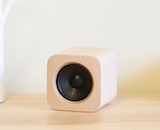 We saw WiFi speakers dominating the news at CES this year, and the trend shows no sights of abating. Not only are many of the big tech brands getting in on the action, but recently smaller startups have been leveraging crowdfunding to try out their own innovations in that product niche.
One of the newest contenders is Sugr Cube, which has already met its funding goal on Kickstarter. This WiFi speaker streams online music, but uses touch and motion controls rather than buttons. The product design is quite lovely, with a clean wood finish unmarked by buttons or cables. Listeners can control the speaker with their smartphones or with physical interactions with the device, such as tapping or tilting. It also has an interesting social angle, with the ability to directly share tunes to Facebook or to sync up with your friends' listening through a companion app.
Sugr Cube currently works with Pandora, 8Tracks, iTunes Music, BBC Radio, and Douban FM, but it currently has TuneIn, SoundCloud, and iHeartRadio in the works.