Research firm Strategy Analytics issued a report to its subscribers, analyzing the mobile music market, and projecting its growth through 2021. RAIN discussed key points report author Wei Shi.
The study and its forecast include three major components of the mobile music market: full-track sell-through (file downloads), streaming audio (both subscription and advertising), and ringtones (popular but declining in Asia).
The headline projection calls for the mobile music market to grow from $12.9-billion in 2014 to $21.5-billion in 2021. That curve represents a 6.5% Compound Annual Growth Rate (CAGR).
Streaming is "in ascendency," according to the report. In an interesting breakdown, mobile streaming usage is projected to grow from 320-million listeners in 2014 to 808-million in 2021 — and the ratio of ad-monetized listeners to paying subscribers will remain about the same at ~11%. Wei Shi sent us the following chart showing milestones of the audience growth, as the percentage of subscribers stays stable.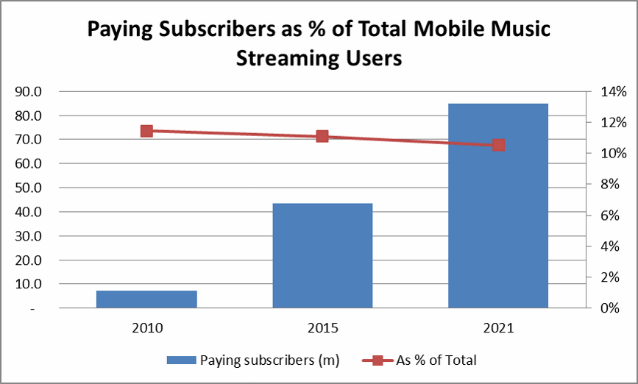 The disparity in subscriber adoption compared to ad-supported listening comes to parity on the revenue side: "Despite not paying for the premium tiers, on the global level, the majority of users listening to ad-funded music are generating advertising revenues for the streaming services roughly on par with the subscription income."
The report makes a clear declaration of streaming as the driver of mobile music income: "Strategy Analytics believes streaming, including those services offered by OTT services, mobile operators, device OEMs and likely other providers in the future, will be the main driver behind the growth of mobile music market in the coming year."
At the same time, the report cites two main challenges for streaming's future. First, "questionable profitability," noting that Pandora has reported minor quarterly profits only recently. Second, the many and varied regulatory schemes around the world, influencing how quickly streaming services can address new markets.