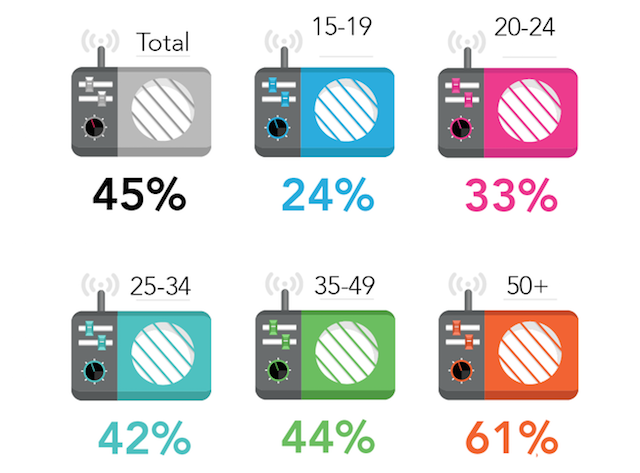 The Music Business Association released a new infographic with data about broadcast radio listenership by age. The younger demographics posted low numbers for this audio format. Ages 15-19 had just 24% share, while 20-24 was 33%. The 25-34 and 35-49 groups had 42% and 44%, respectively. Ages 50 and older had a solid 61%. The Audiomonitor survey covered nearly 2,900 people, and revealed a total share of ear of 45% for broadcast.
These results –  young people aren't that into traditional radio – echo what we've seen in other recent research. Edison's Share of Ear study, for instance, showed streaming audio outpacing AM/FM for teenagers' daily listening time. Even though terrestrial radio secured 52.1% of Americans' listening time at last count, the age 13-17 group posted a daily average of 53 minutes on AM/FM and 64 minutes on streaming in the fall.
Nielsen's Total Audience Report for the first quarter of this year also pointed to a lower interest in radio among younger groups. The age 12-17 group clocked in just under 35 hours in an average month and the 18-24 group barely surpassed 49 hours. Ages 35 and up were listening for more than 60 hours.
All this research points to a mounting challenge for radio to find ways to connect with young listeners.