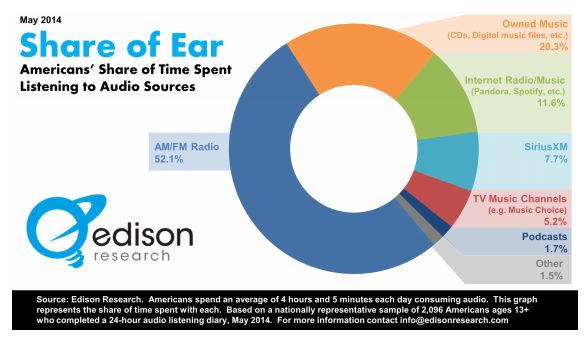 Edison Research has released a summary of what it characterizes as a "groundbreaking" study of what American adults and teens listen to. Called Share of Ear, it is a new research franchise for Edison, which earlier this year released the 22nd edition of its annual The Infinite Dial study.
Share of Ear surveyed listening patterns across many sources of audio: AM/FM radio (which garnered more than half of reported listening), Owned Music (CDs downloaded music files, etc.), Internet Radio/Music (covering non-interactive services like Pandora and interactive services like Spotify), SiriusXM, TV Music Channels, Podcasts, and Other sources in a catch-all category.
"I'm certain that the trendline for overall audio listening is going up." –Larry Rosin, President, Edison Research
AM/FM radio accounts for 52.1% of listening in the Share of Ear study. Internet music listening gets 11.6% of the "Ear." Owned music, which represents non-streamed and non-broadcast listening, takes 20.3% of listening among respondents.
"One graph really says a lot," Edison Research President Larry Rosin told RAIN in a phone call. "It says that there's a lot of radio listening, and a lot of listening to other things, too. It's a dynamic space with a lot going on. There's so much interest in the space, with so many companies entering it."
The survey mechanism was a 24-hour listening diary completed by over 2,000 Americans, 13 years old and older. The diaries were completed in May.
All told, the study reveals that Americans listen to just over four hours of audio per day. We asked Larry Rosin how this corresponds with his conviction, first expressed in last falls release of The New MainStream 2013, that people are listening to more audio now than in earlier years.
"I have no doubt that the total amount of audio listening is going up," rosin told us. "It's available in more places, throuogh more technologies, from more sources — there are just more ways to listen, and more opportunities to listen. I'm certain that the trendline for overall audio listening is going up."