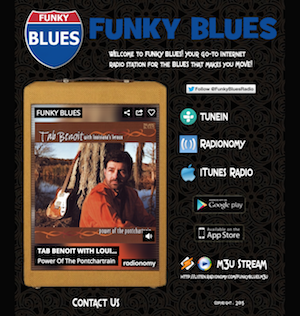 Considering the genre's very name evokes the feeling of being low and sad, blues music can have a surprisingly funky side. That upbeat attitude comes out in spades on the fun and feisty Funky Blues station.
The programming leans most heavy on flashy electric guitar players like Freddie King, Robert Cray, Tab Benoit, and Tinsley Ellis. But it also loops in tunes from other subgenres, such as New Orleans classic Dr. John and jazz crooner Janiva Magness. It's a great mix of old and new performers that keeps the energy and the sass high.
The site is refreshingly simple and uncluttered. There are links out to the station's Radionomy, TuneIn, and iTunes radio pages, as well as its Twitter page. You can also take the tunes mobile with either Android or iOS apps. That's it. The clean look does mean that there's no list of recently played songs on the site, so you'll need to pay attention if you hear something you want to make a note of. Otherwise, the station delivers exactly what it promises: blues tunes to make you get up and get down.