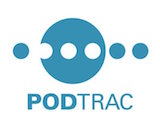 In a blast of information preceding its appearance Friday at the IAB Podcast Upfront 2020, Podtrac/Authentic sent us a ream of data and new show deals. (Podtrac and Authentic are sister companies; Podtrac measures podcast consumption and Authentic is a top podcast advertising sales house.)
CEO Mark McCrery is scheduled to speak at IAB on Friday, at 1:40pm ET, and graciously sent us some advance information.
The Rebound, and Apple
On the data side, four points:
The average unique U.S. monthly audience of the Top 10 Podcast Publishers grew 15% in August 2020 vs. August 2019.  The media podcast publisher increased audience 23% year-over-year.  Global streams and downloads for the Top 10 Publishers increased 43% in August 2020 over August 2019.
Podcasting has rebounded and grown since the weeks of the Covid shutdown in March and April.  By category, News has grown 103% over the last 52 weeks, Business 55%, Comedy 43%, and True Crime 51%.
Podtrac measured 1.5 billion downloads and streams in August 2020, across all Podtrac measured podcasts.
In August 2020, among Podtrac measured shows, including those appearing on Podtrac's Ranking of Top Podcast Publishers and Top Podcasts:
61% of U.S. downloads came from Apple, 9% from Spotify, and 2% each from Chrome, Stitcher, Podcast Addict, Overcast, Castbox, iHeartRadio and Alexa, and 1% from Pocket Casts.
32% of U.S. audience came from Apple, 25% from Spotify, 6% from Chrome, 4% from iHeart, 3% each from Castbox, 2% each from Alexa and Podcast Addict, 1% each from Pocket Casts, Stitcher and Overcast.
That final point, representing Apple's lead in podcast distribution, is represented in this chart: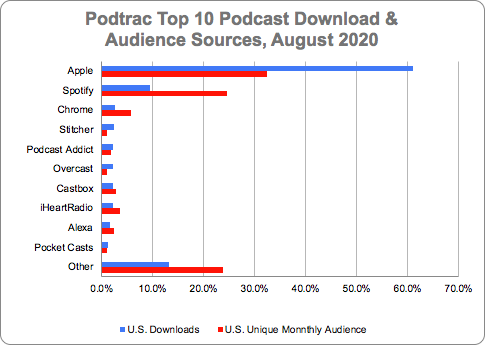 Note that Apple has extended its dominance when measured by downloads, and Spotify is catching up when measuring audience numbers. It is a startling recognition of spotify's audience clout that the audio platform deliver about 25% of podcast listening, in the relatively short time it has  been involved in the industry compared to Apple.
Exclusive Ad-rep Deals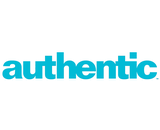 On Authentic's side of the company, three new podcasts have come under an exclusive representation agreement:
Michael Connelly's Murder Book, Season 2 – Premiers October 2020
Michael started his career as a journalist, then became a best selling novelist, then executive producer of Bosch.  Connelly is back with Season 2 of Murder Book podcast "The Women Who Stopped Sam Little." The new season investigates Sam Little, the most prolific serial killer in American history.
Skip Hollandsworth's Tom Brown's Body from Texas Monthly – Premiers September 2020
Skip Hollandsworth, staff writer at Texas Monthly for 35 years, award-winning true-crime writer and the best-selling author of The Midnight Assassin introduces a new true-crime podcast, Tom Brown's Body.  A popular high school senior in a small Texas town disappears. No one is off the hook and everyone's a suspect.
Unpacking America with Joel Leon and Katy Stoll – Premiers Q4 2020
Hosted by Joel Leon (A Book of Things I will Tell My Daughter, God Wears Durags Too) and Katy Stoll (More News, Even More News), Unpacking America features black thinkers, activists and experts.  It combines historical discussions about race and opportunity with the present day.