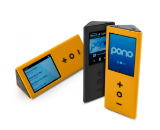 The Los Angeles Times interviewed Neil Young, talking about music projects old and new with the rocker. He is still on the same crusade for audio quality with his recently unveiled Neil Young Archives as he was with Pono Music, his multi-million dollar crowdfunded project that recently shuttered. And Young has some definite opinions on why Pono failed.
"The record labels killed it," he told the Times. "They killed it by insisting on charging two to three times as much for the high-res files as for MP3s. Why would anybody pay three times as much?"
Considering he secured more than $6 million on Kickstarter and $7.2 million from Crowdfunder by suggesting that listeners should do just that, this seems like a fairly outrageous question.
"The record companies, by charging three times as much for hi-res music as they charge for regular music, they've killed hi-res music," he continued. "It's the dumbest thing I've ever seen."
There might be something dumber. Like, say, a high-res portable music player that looks like a bar of Toblerone made by a team that trades in misinformation about digital music.