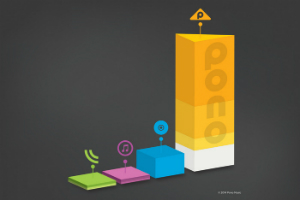 Pono Music, the nascent high-fidelity portable music player and download store founded by Neil Young, brings its Kickstarter campaign to a close today having nearly octupled (if that's a word) the original goal of $800,000. The current tally is $6.1-million with three hours to go, showing 95 contributors pledging $5,000 each, and hundreds more buying into lower pledges.
When we last visited the Pono Music, on the first day of its crowdfunding campaign, it had exceeded the goal within hours, quickly raising over a million dollars. We were impressed, but pessimistic about the business prospects in the niche category of high-end audio in a convenience-oriented mobile world. Today, we are more impressed than ever by the Kickstarter success, but remain convinced that the product will exist in a limited niche.
The marketing effort is outstanding, assisted by Neil Young's rolodex of musicians willing to listen and evangelize the experience in a persuasive promotional video. but it's one thing for musicians to be ecstatic over hi-fi reproduction of their studio work, and another to ask consumers to re-purchase their music, buy and carry another mobile device, forego the music-service cloud for local storage, and siphon the whole thing through sound components that might not take advantage of high-resolution files.
Pessimism aside, Pono Music appears to be a well thought-out high-end ecosystem for audio connoisseurs, and a beautiful product.