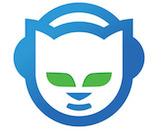 Napster, the disruptive brand launched nearly 22 years ago as a massively popular unauthorized peer-to-peer music sharing service, is on the cusp of its next life. MelodyVR, a music video platform which acquired the brand and its assets from RealNetworks last summer, will rebrand, relaunch, and list on the London Stock Exchange — all as Napster.
MelodyVR obtained the Napster brand from Rhapsody International last summer. Rhapsody used the Napster mark as the public-facing brand of the (previously) Rhapsody music streaming service, a global competitor to Spotify and Deezer which serves about two-million subscribers. Rhapsody/Napster was owned by RealNetworks.
As a branding asset, Napster is still trading on its revolutionary reputation, even though its revolutionary impact is an echo from the past. Created by Shawn Fanning and Sean Parker (Parker was also the first president of Facebook), it allowed users to open their digital music collections to other users for mostly unauthorized uploading and downloading. Napster lit the music industry aflame, setting in motion the creation of other P2P instances, and catalyzing the record industry to bring a controversial series of lawsuits against individual users.
This new incarnation will be Napster's fifth. After being knocked out offline in 2001 by lawsuits, the original Napster was purchased by Roxio, a CD burning outfit. In 2008 Napster changed hands again, becoming a Best Buy property. Rhapsody moved in with its acquisition in 2011.
MelodyVR Group PRC is changing to Napster Group PLC. As of this morning, we see napster.com unchanged, offering what appears to be the same ex-Rhapsody music service. Rhapsody's legal group told RAIN News: "In the longer term, the renamed Napster Group PLC will offer a 'new' version of Napster that will likely combine certain elements of the current Napster and MelodyVR services."
For anyone who has been following online audio for 25 years, there is a coherent historical line between the original Napster and today's ecosystem of on-demand streaming music. That history runs through the pioneering launch of Rhapsody, the creation of the iTunes Music Store, the decline of per-unit music purchases, and the ascendance of cloud-based web services like Spotify.
Artifacts which litter that historical path include CDs, file purchasing, and MP3 players — replaced by more consumer-friendly streaming, subscriptions, and smartphones.