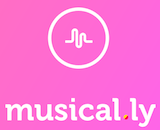 The rapid-fire journey for Musical.ly, a short video and lip sync app, is coming to an end. The app is getting merged with TikTok, a similar program from the portfolio of its Chinese parent company Bytedance. Both video apps are now available exclusively under the TikTok name. Existing users of Musical.ly will have their apps updated with the new version and their account, content, and fan-base information will be ported over to TikTok.
Musical.ly accumulated a steady following of young, mobile-centric users, and the company launched a companion app for longer-form live-streaming called Live.ly. The project was successful enough to draw attention from larger players, and Musical.ly was purchased by Bytedance social media company Toutiao for as much as $1 billion in November 2017. Since the acquisition, Live.ly was folded into the Musical.ly app.
TikTok reportedly had 150 million daily active users and 500 million monthly active users. That trounces the still-respectable 100 million monthly active users for Musical.ly. With the app merger, TikTok will be updated to reflect the most popular elements of both platforms. The niche of lip sync videos has demonstrated international popularity, with social media giant Facebook unveiling a similar feature earlier this summer.