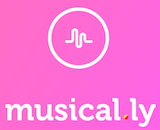 Musical.ly has been purchased by Chinese social media company Toutiao for between $800 million and $1 billion. The social app's users can lip sync along with a track to make their own music videos. Musical.ly says it has 60 million users, mostly in the U.S. and largely teens and young adults. It was most recently valued at $500 million after a funding round in 2016.
Toutiao is owned by Bytedance. It offers a blend of social and news aggregation to its claimed audience of 120 million monthly users. Toutiao has leveraged artificial intelligence to personalize its news feed tool, and will reportedly apply the same tech to Musical.ly.
"Musical.ly will continue to operate as an independent platform, integrating Bytedance's global leading AI technology and leveraging its reach in China and key markets across Asia to enhance Musical.ly's offering to users, creators, and partners," the two Chinese brands said in regards to the deal.