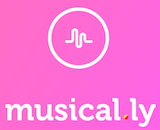 Social video app Musical.ly is now creating original shows. The platform emphasizes user creativity, and has become a hub for lip syncing and other fan music videos. The planned episodes will run just two to four minutes and will feature content from NBC, MTV, and Hearst. The first two shows are a condensed version of a Nick Cannon MTV program and a DIY fashion piece from Seventeen magazine. Both debuted this week. Two more shows will premiere tomorrow.
"We have seen a paradigm shift where consumers are becoming creators," Musical.ly North America President Alex Hofmann said. "They don't want to just watch videos anymore."
Viewers will be able to post video responses to the app's scripted shows. Those replies will be collected and presented on a hub page at the end of an episode.
Originals and exclusives have been one of the hottest trends in the entertainment industry this year. Services ranging from Musical.ly to Apple Music, from Vevo to YouTube, have tried to attract audiences by hosting content that can't be found elsewhere. That can be a powerful strategy when the quality is high and piques the interest of a large audience. Netflix saw a success in this vein with its 80s horror homage Stranger Things, as did Beyoncé with her masterpiece album Lemonade, which can only be streamed on Tidal.