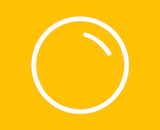 When a big success hits the start-up world, it typically spawns a series of clones. In this case, we have a new service positioning itself as "the Snapchat of music." Msty is a mobile app that lets its users send song clips via message to their friends, accompanied by images and snippets of text. The unusual name stands for "my song to you."
We've seen several new businesses try to combine music and messaging. Msty has the distinct advantage of having a partnership with Apple Music. The service sends 30 seconds of a song, which users can select from curated playlists based on mood, genre, or popularity. The catalog is currently about 2,000 tracks, but is expected to grow to 22 million. The song recipient will then have the chance to buy the full song through Apple or just send a message in response. The Apple partnership also allows Msty to have a unique business model. According to VentureBeat, it is receiving a commission for every person who signs up for an Apple Music subscription via the app. That means Msty doesn't plan to pursue sponsored content or ads at this stage, which is a potential plus for members.
Considering how crowded the music/messaging space has gotten so quickly, it will be interesting to watch how Msty and its serious industry backing manage to carve out a niche.