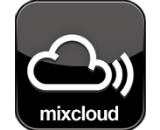 Mixcloud has updated its membership options, adding two paid subscriptions. CTO Mat Clayton said the goal of adding paid tiers was to diversify and smoothen the company's revenue. "We think it's important to have a product that allows our users to pay for the Mixcloud service," Clayton said. "This sets the precedent that content and services on the internet are valuable."
The Pro for Uploaders plan will offer full stats, scheduled uploading, and content highlighting. Aimed at DJs, broadcasters, and musicians, this tier costs $15 per month, but will still include ads. The Premium for Listeners plan offers a cleaner streaming experience for $6.99 per month. This tier has no ads and gives early access to new features. Mixcloud will also continue to provide its Basic plan, which is ad-supported and offers limited analytics, for free. All accounts will still have unlimited uploads and unlimited listening.
The service is also adding a new feature called Reposts, which lets members share each other's audio to their own accounts. This update adds a discovery element to the platform.